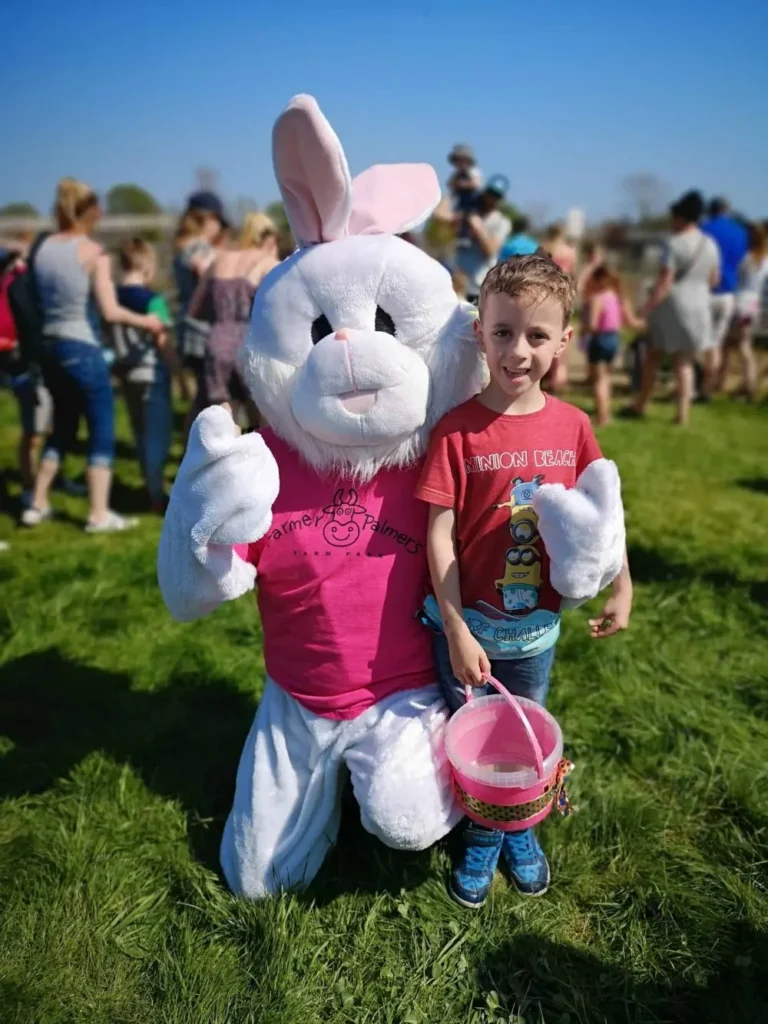 Easter Holiday Events
Enjoy the Easter Holidays down on the farm!
Easter holidays in Dorset are running 9th – 24th April 2022.
The Easter Bunny has been in touch and they're delighted to be bouncing back to us this April for some EGGCITING fun on the farm!
Have you heard? There are 'Bandit Bunnies' on the loose! These cheeky characters are plotting to capture the Easter Bunny and steal their chocolate eggs! We can't let that happen so we need your help!
Join in with the Tractor Rides* from Thursday 14th – Tuesday 19th April and help us rescue the Easter Bunny! Your little ones will be provided with water pistols to soak those cheeky bandits and free the friendly bunny!
*Themed Tractor Rides are £2.00 per person
Easter Egg Hunts
And it wouldn't be Easter at Farmer Palmer's without our famous Easter Egg Hunts! 100's of mini chocolate eggs will be scattered in our special egg-hunting field each day from Good Friday to Easter Monday inclusive.
Look out for a GOLDEN TICKET! There are 25 to find each day and these can be exchanged for a BIG chocolate egg. The Egg Hunts take place at 2.30pm and there is no extra charge to join in with this event, just pay for your admission.
Feel free to bring an Easter basket to collect your eggs in. Adults, we kindly ask that you assist us in making the egg hunts fair for everyone by not stuffing your pockets. Thank you so much for your cooperation.
Farmer Palmer's will be brimming with baby animals during the Easter Holidays! Plus all the other wonderful friendly farm park animals for you to meet with your little ones! There's a full daily timetable of hands-on Animal Events each day throughout the holidays and acres of adventure to explore. Join us for our Easter Eggstravaganza over the Bank Holiday Weekend. Our fluffy, friendly Easter Bunny will be hiding hundreds of chocolate eggs out in the field, every day from Good Friday to Easter Monday inclusive. Egg Hunts Time TBC. Planned for 2022 – Look out for the Bandit-Bunny Tractor Rides! Help stop those cheeky bunnies from stealing the Easter Bunny's eggs! More info coming soon . . . We look forward to welcoming you. There's so much to do in the local area this Easter!
Find out more